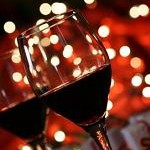 Many people ask for wine recommendations at this time of year.  I am fortunate to be attend retailers' wine tastings, where they show their exclusive wines, and am pleased to relate that there are many superb wines on offer, and some exceptional value.  The flipside of this is that there are more disappointing wines than ever before, as the demand for 'cheap wine' scrapes at the barrel of what is considered decent. 
When judging a wine's quality, I take into account factors such as balance, typicity and length of flavour as well as price and value for money. Frequently, alcohol will overpower the balance of a poor wine, or a wine with high tannins will seem too dry.  Good wines have a balance of fruit, acidity, alcohol and tannin.  The wine should be typical of what it claims to be – very often popular sellers such as St. Émilion or Châteauneuf du Pape are made to the least acceptable quality and passed off as a 'good wine.'  CBA is a recent abbreviation I've used to denote the 'could be anything' style – wines which are pleasant but don't reflect the character of the region or variety.  Long-lasting pleasant flavour is also a hallmark of a good wine.
The wines mentioned below provide a guide towards each outlet's best wines (December 2013 pricing), but bear in mind that this doesn't mean to say that you will like them.  Wine styles are varied, and people's tastes are entirely different – what is wonderful to one person may be awful to another. This is where learning about wine can be useful.  A wine course, such as my one day wine tasting course can help a person recognise smoothness, acidity, oak, complexity and alcohol, and much more, and point you towards regions and varieties where you will find these.    
Tesco has a good selection, and their occasional 25% off wine sale is terrific value.  Sauvignon lovers should reach for Calvet Touraine Sauvignon at €9.99 (aromatic, fresh, lime and passionfruit), Kiwi Cuvee Sauvignon at €8.49 (sugarsnap freshness), Feuille de Vigne Sancerre at €13 is decent for the price.  
Good light & minerally whites included Pazo das Bruxas Albariňho (creamy, with pear and minerality), at €15.99.
If you like richer styles, try Piccini Memoro White at €9 – balanced oakiness, floral and herbal character.  Marques de Casa Concha Chardonnay is classic – generous, balanced oak and tropical fruit, at €12.99. Tim Adams Semillon shows funky broad butterscotch and toast with a super finish at €14.99. 
Light/medium bodied reds included Blason de Bourgogne Pinot Noir at €11. Riscal Arienzo is quite characterful, and particularly herbal, with a good streak of dark red fruit, chocolate, vanilla and spice, at €10. 
Medium-full-bodied reds to look out for: Cellier de Charles Lirac and Ch. La Croix des Lamberts Bourg are both a decent marriage of vegetal, animal and dark fruit, both at €10.   Gran Colegiata Toro Reserva at €15.99 is a good red meat wine. Louis Martini Napa Cabernet is a steal at €15. Tesco Finest Carmenère is a sultry blend of coffee, ripe black fruit and woodsmoke at a remarkable €9.  Finally, a rare yet flavoursome sweet red wine is Apothic –sweet red berry & spice, at €10.
Tesco Finest NV Champagne at €29.15 is a very good price for this quality. 
Dunnes– Unfortunately I couldn't make it to the Dunnes tasting, so my recommendations are more than limited than they should be, but can vouch for the Gran Devocion range at €12.20, Palo Alto Winemaker's Selection red at €11.50, the excellent Casillero del Diablo range at €9.50, Millegrand Minervois (€11.75) and St. Marthe Syrah (€10.70).  Villa Belvedere Ripasso is €13.40.  Great to see Ch. Margoes Grave again – a delicious Bordeaux red at €14.25.
Superquinn and Super Valu – I can't recommend from these outlets, as neither provided information.  
O'Brien's wines stood out for consistency of quality, at various prices.  Discounts are generous, and credible.  Now at €10, Bougrier Sauvignon Blanc is classy with gracious acidity, and lip-smacking green leafy flavours.   Ch. la Freynella Bordeaux at €12.99  is absolutely lovely – savoury, flinty, smoky and grassy.  Puiattino Pinot Grigio is a crowd-pleaser but with discernibly more character than most – mineral, almond and ripe apple character, and now €13.99.  Bellow's Rock Chenin Blanc fits the same category at €9.99.
O'Brien's have numerous good reds, but super reds include Ch. Garreau Bordeaux  – smoky, earthy, and a nice balance between Old World leather and animal and dark/dried fruit; super value at €12.99.   Torbreck GMS is laden with chocolate, prunes, oak, and has an inky depth of sweet fruit, and a lovely lick of pepper on the finish; now €16.99.  Cambria Tempus Syrah from California is very classic and worth a look – very earthy, with dark fruit, medium body and tannins and a lengthy, peppery finish.     
Marks & Spencer's range rarely disappoints. Inexpensive reds worth buying include El Esteco Tannat, €11.49, with lengthy flavours of chewy licorice, deep blackcurrant and pepper and sweet oak.  Ch. Tour d'Auron Bordeaux at €13.29 is impressive for its pleasant body, modern fruity style, and long finish.  Palatia Pinot Noir from Germany was great value at €14.29.
Domaine Mandeville Viognier at €11.49 is a crowd-pleaser with generous ripe peach, grapefruit & smoke.   Tasmania Sauvignon Blanc is distinctive and super, with smoky baked apple & close & broad texture (€15.99).
M&S premium New World range has some super buys – Houdamond Pinotage is a great red meat wine at €14.29. There is good choice between Maranga Dam GSM (€22), Catapult McLaren Vale Shiraz (€21.50),  Ebeneezer & Seppeltsfield Shiraz (€22).  CVNE Contino 2005 at €35 is a great investment gift, and will reward now and in years to come.  Campo Aldea Rioja Graciano is an unusual mature leathery style at €19.99.
In champagne, I really liked their De St. Gall Blanc de Blancs NV Champagne (long expansive flavours of baking), at €43, and Herbert Beaufort NV at €50 (savoury, developed aromas, weighty & broad).  Super after dinner wines include Hermits Hill Botrytis Semillon (from de Bortoli) at €12.75 for 50cl, and 10 year old Tawny port  at €23.50. 
Aldi's range is average to good, with some highlights.  Party wines include Toro Loco Tempranillo – €5.99.  The rosé at €5.79 is a dry style, impressively fruity and lengthy.  Ampoli Moscato is a pleasantly floral and fruity sparkler, in an off-dry fashion (€8.99). Janisson Grand Cru Champagne is rich and attention-grabbing (€26.99).
Aldi's Exquisite range is generally good – Shiraz (€8.49), Gigondas (€14.59), Ripassa (€9.99) have good fruit.  Bordeaux worthy buys include Ch. Chantemerle Médoc and Grand Pey Lescours St. Émilion, both at €13.99.  
In whites, Freeman's Bay Marlborough Sauvignon at €7.99 and Arthur Metz Gewurztraminer at €9.99 are both good examples at an exceptional price. 
Premium wines which offer reasonable representation of the style are Boisset Meursault Reserve at €24.99 (warm rich mouthfeel, toast & cloves), and Boisset Gevrey Chambertin at €29.99 (leafy, undergrowth, savoury, nice balance).  Look out for dessert wines (Beerenauslese and Eiswein at under €10 for a half bottle.  Their 30 year old Tawny is delicious; €49.99. 
Lidl had two Sauvignon Blancs which stood out – Limited Edition Leyda Sauvignon (€8.79), and Estate Selection Sauvignon at €7.99.  Both were abundantly fruity, and very well-balanced. Their Limited Edition Colchagua Cabernet was fabulous at €8.99.
Molloys Liquor Stores throughout Dublin have their own exclusive wines which are available year round at great prices, such as the elegant Duc de Castellac Bergerac Blanc at €9.49, Sancerre-like Ronco Blanchis Collio Sauvignon at €11.99, and deliciously tropical Overstone Marlborough Sauvignon at €11.99.    In reds, new Mission St. Vincent Médoc delivers ample body and cassis fruit, with a lick of graphite and cedar, at €12.99.  I have to admit some bias, as I do some work with Molloys, but Prima Perla Crémant de Limoux is a sparkling which over-delivers at €19.99, with creamy mousse and texture and ripe golden apples. Their Jean Comyn Champagne is €35 worth of flavour, not bling bling, from a small family producer.     
Independent off-licences are worth a spree, particularly if you need advice.  Alpha Zeta Chardonnay, Trimbach Pinot Blanc, Errazuriz Max Reserva Sauvignon Blanc, Leone de Castris Salice Salentino and Heartland Shiraz, are all stunningly good, textbook quality wines for just under €20.  My star buy from Next Door shops would be Evodia at €9.99.   This Grenache has ripe red berries  enhanced with spice and a savoury quality.
This isn't an exhaustive list, so feel free to share recommendations of what you consider are great buys!