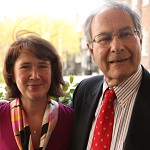 Wine students are frequently overwhelmed with the number of grape varieties they have to study when it comes to Italy.  At WSET Level 2, the course syllabus is primarily varietal-driven, yet when the course is delivered differently in relation to Italy as it is impossible to cover the multitudinous unusual varieties on offer.
At WSET Level 3, there are 5 chapters devoted to Italy, and students begin to appreciate that it is home to around 1,000 varieties, with around 40 being commercially important.
I like to think these varieties are part of the inimitable allure of Italian wines, and one of the many reasons making Italian wines so unique.   So does Sandro Boscaini, head of Masi, who has resurrected an ancient variety, Oseleta, with great acclaim among his peers.
At a wine tasting in Dublin, he alluded that the success of Valpolicella, and lately, Ripasso, has been counterproductive in many respects.  The result is a dangerous risk to quality and reputation. In order to meet demand, producers no longer use precious hillside vineyards for Valpolicella – these are now usually dedicated to Amarone and Ripasso.  Secondly, growers narrowed down the range of varieties being used, in order to be more efficient.
Masi, a 7th-generation wine business, takes pride in raising standards for wine production in the Veneto region. In the 1970s, Sandro Boscaini discovered pre-phylloxera vines which were making a most powerful and distinctively different Amarone, with intense colour, unusually high tannin and acidity levels.  Scientists at the local Institute in Conegliano were startled to realise it was Oseleta, a variety which had been forsaken for its low yields, late-ripening and tight bunches which made picking very difficult.
Boscaini was convinced of its potential, and grafted 2 hectares of Oseleta, trialling different levels with Toar (using a small percentage of Oseleta), and then Osar (initially 80% of the blend).  The resulting wines showed the power this variety adds.  He prefers Oseleta when used as part of a blend rather than as a single varietal wine.  He likens this experimental phase to a body-builder who starts off trying to be as big and powerful as possible, but then settles down to his optimal physique. The law now permits up to 10% Oseleta in Valpolicella (Corvina being the dominant variety, supported by Rondinella, with Molinara falling out of favour).
Thanks to the Masi Technical Group's efforts, Oseleta was reinstated on the national register of varieties, and is now much-talked about and copied by quality-conscious producers in the region.
In a comparative tasting of Masi wines, those with a small percentage of Oseleta showed more colour, more tannin and acidity, together with a slightly richer mouthfeel than those which didn't. I felt somewhat disloyal to the 'core' range when I realised that in every comparison, I preferred those versions which included Oseleta.
Masi Toar was conceived as a prototype for a new kind of Valpolicella.  Toar 2010 (75% Corvina, 25% Oseleta) is particularly vibrant in its acidity, with considerably more tannin – much more of a food wine than the always delicious, fruity supple Masi Bonacosta Valpolicella, which is more of a traditional assemblage of Corvina (70%), Rondinella (25%) and Molinara (5%).  Toar's 25% Oseleta dictates a different designation – that of 'Rosso Veronese IGT, rather than Valpolicella DOC.
Masi Brolo Campofiorin Oro 2010 again shows richer texture, tannins, and acidity – it's a superb powerful wine, beautifully-poised, and benefits from 10% Oseleta.  Sandro aptly described this as a 'Turbo Campofiorin.'  Its sibling, Campofiorin, tasted alongside, has quite a different personality.
Masi Riserva di Costasera Amarone della Valpolicella 2009 was for many, myself included, a show-stopper.  Rich smoky aromas, with cherry compote and hints of leather.  The palate is stunning – the structure and length are highly impressive, as are its layers of chocolate, cherry liqueur, cassis, and hints of leather and smoke.   This 'Cru' wine includes 10% Oseleta, not seen in the iconic Costasera version of Amarone.
Masi Osar 2007, now 100% Oseleta, is stunningly intense – pulsating acidity and tannins belie concentrated red fruits and smoky hints.
Once again, I have been impressed by the wines of Masi wines, and Sandro Boscaini's ineffable devotion to quality, allied with understated old-school charm.  I hope to show and share some of these great Venetian wine styles at wine courses this Autumn.