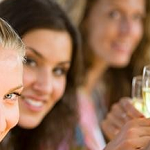 Wine appreciation courses are ideal if you are interested in wine, and need a little help in figuring out the details so that you can take the risk out of buying wines.  These are available as evening wine classes, or as a one-day wine tasting course.
I also have gift vouchers for any of our courses, which are flexible & long-lasting!  The one-day wine tasting course is the most popular option to give as a gift.
Premier Wine Training is an approved provider of WSET wine courses in Ireland.  These are extremely comprehensive, well-structured courses, leading to a recognised qualification.
Premier Wine Training is also the exclusive provider of the French Wine Scholar programme, under the auspices of the The Wine Scholar Guild.
I also offer customised wine training.
Wine courses are presented by Maureen O'Hara, has 20 years' experience in the wine business, having worked with and tasted with some of the best in the world.  With over 10 years teaching experience, Maureen O'Hara is also a WSET certified wine educator.
Moreover, her enthusiastic style and approach to wine ensures that everyone feels comfortable in the group.   'No question is a silly question.'  Read what others have to say under Testimonials.
Location: All wine courses take place in central Dublin.  (Courses can be organised in alternative venues; min. of 15 people required.  Just ask).
Public transport:  Our wine courses in Dublin are close to public transport (5 minute walk to buses and Luas lines, 15 minutes to DART, 10 minute taxi ride to mainline train stations).
PS:  If you have to drive, Premier Wine Training encourages clients to taste rather than drink wine, and practice the industry standard of spitting out wine as part of the tasting process. (It also enables you to taste more!).