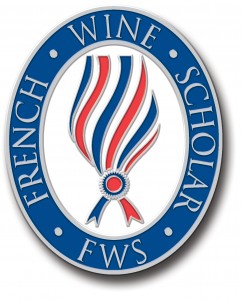 Set yourself apart from your peers by becoming a French Wine Scholar!
The French Wine Scholar program provides a current, accurate and in-depth French wine course, suitable for wine professionals, wine connoisseurs or wine enthusiasts.
This wine course was developed and administrated by the French Wine Society with the support of the French Ministry of Agriculture. Wine students who follow this in-depth curriculum and pass the exam will earn the French Wine Scholar (FWS) post-nominal.
Overview: The French Wine Scholar Program is the most up-to-date and comprehensive French wine course available, covering French wine law, grape varieties, viticulture, winemaking and all of the French wine regions. It offers historical and topographical context for wine production in each area. Gourmet lovers will appreciate that food and wine pairing relevant to each area is also provided.
What people say about the French Wine Scholar programme:

Jancis Robinson lists the Wine Scholar Guild alongside WSET, The Court of Master Sommeliers and the Institute of Masters of Wine on her website.
"The French Wine Scholar is a very serious wine program but fun and very enjoyable to follow. The teaching is superb and the quality of the material brilliant."- Gerard Basset, MW, MS, Best Sommelier in the World 2010
"FWS program is an in-depth, well-researched certification program that will benefit wine professionals that aspire to increase their professionalism and acquire a deeper understanding of the various French wine regions. You think you know most of the French wine regions? Think again. Take the challenge of the French Wine Scholar program and be a better-informed French wine lover!" – Lim Hwee Peng, CSW International Wine Specialist Singapore.
Read more testimonials for French Wine Scholar program.
Why Study French Wine?
France vies with Italy as the #1 wine producing country in the world.
France is regarded as a reference point for many of the world's most admired wine styles.
In terms of quality, the most popular commercially-produced grape varieties (Sauvignon Blanc, Chardonnay, Chenin Blanc, Pinot Gris, Merlot, Malbec, Cabernet Sauvignon and Syrah) are all native to France!
When it comes to food and wine culture, France is the historic benchmark!
Course content: The French Wine Scholar program helps wine students learn about French wine regions as an integrated whole by explaining the impact of history, the significance of geological events, the importance of topographical markers and the influence of climatic factors on wine in the glass.
With Premier Wine Training, your course includes 24 hours of classroom instruction and tutored tasting, taught by approved FWS instructor, Maureen O'Hara. This instruction is spread over 3 full days, across a number of weeks, to allow for home study.
Session 1: Alsace, Champagne, Loire, Jura, Savoie
Session 2: Bordeaux, Burgundy, Beaujolais, South-west France.
Session 3: Rhône, Languedoc-Roussillon, Provence, Corsica.
Your course fee includes 1 year's access to an e-learning facility, to complement your classroom experience. This is a first-class online wine course, including 20 multimedia e-learning modules with full audio narration, a comprehensive series of webinars on regional wine styles with suggested wine list, review quizzes for self-evaluation, instructor Q&A forum for personal assistance and downloadable maps. Also included is access to a full set of Quizlet-based revision questions.
Exam: The French Wine Scholar (FWS) credential will be conferred to those individuals who achieve a score of 75% or higher on a 100-question multiple-choice test. Candidates scoring 85-90% gain a pass with Honors. Candidates scoring 91-100% pass with Highest Honors.
A Certificate and pin are awarded on successful completion of the exam.
Course cost: €650. This includes:
the 280-page full-color French Wine Scholar study manual
1-year access to the French Wine Scholar online study program for class preparation and review (a $295 value-added bonus)
Registration for the French Wine Scholar Exam
An average of 14 wines will be tasted in each session.
Set of 6 tasting glasses
Full set of revision questions, on Quizlet.
Earn your French Wine Scholar title this year with Premier Wine Training!
2019 Dates: tbc
Venue: Dublin city centre
Transport:
More about the Wine Scholar Guild: The Wine Scholar Guild also offers membership which in turn offers webinars, newsletters and study trips… your link to a continued love affair with French wines. (The Guild is also extending its programmes to include an Italian and Spanish course).
Register: Secure your place now, by booking online, using the button below.
Contact Form

If you don't receive a reply within 24 hours, please check your spam filter.