Orin Swift is an iconic name among somms around the globe. I've been lucky to taste Orin Swift wines in California, and am happy to share my wine tasting notes, now that these wines are available in Ireland.
Orin Swift's creator, Dave Phinney, regards himself as a brand-maker as much as a wine-maker. The Prisoner made its debut in 2000, and was based on a Californian Zinfandel blend, which was serendipity rather than strategic planning – Zin was what was available. He labelled it with a Goya etching, and it sold out at $25 a bottle. In reviews and awards, this wine is consistently a winner.
He went on to sell the brand 10 years later for $40m. It re-sold a few years after, for many multiples of that.
Dave Phinney is at the vanguard of recognising a trend for younger consumers to identify with stand-out labels and brand identities, as opposed to traditional cues of variety or geographic labelling. Some might even give him credit for it. Growing up in the 1980s, both his parents were professors, and his European summers and appreciation of art and culture are evident in his branding. Orin Swift is a combination of his father's middle name and his mother's maiden name.
After a lengthy hiatus due to a non-compete clause in the sale of The Prisoner, the next chapter in Orin Swift wines has been similarly successful. The wines below are super-premium blends sourced from top quality fruit throughout California. In 2016, Gallo made him an offer he couldn't refuse, while retaining him as part of the brand. Part of that offer gives him access to some of the best vineyards in California. It also frees him up to do what he does best, and leave the business side of it to Gallo.
It's very difficult to ignore his labels, which have been intrinsic to the success of these wines, so my tasting notes reflect this!
Papillon 2016 is a Napa Valley blend of Bordeaux varietals (Cabernets, Petit Verdot, Malbec, Merlot), aged for 15 months in French (43% new). It comes in at a whopping 15.7% abv, but this isn't immediately evident against the intense fruit and supple tannins. Its deep colour is followed by an intense, woody, pencil-box bouquet, married with black cherry and chocolate. Initially it's quite firm, then the lush ripe fruit kicks in and melds the tannin, revealing tobacco notes.
The label shows a pair of working hands, tattooed with the letters of Papillon. His 3 year old daughter surprised him by pointing out a 'Papillon,' in French rather than English. The memory lingered, and he juxtaposed this 'beautiful French word' against gritty working hands.
8 Years in the Desert 2017 – a blend of Zinfandel, Petite Sirah and Syrah is a dense purple colour. Heady aromas of ripe mulberry, black cherry, plum, sweet spice and vanilla. It's a big, rich, mouth-filling wine, but like all his wines, balanced, and drinkable, with ripe rather than jammy fruit. Named after his imposed sabbatical, it will remind some of U2's Joshua Tree cover. It made me long for hoi-sin duck, to reflect the sweet fruit notes.
Palermo 2016 is a Napa Valley Cabernet Sauvignon, with 15.5% abv. Black cherry, blackberry, with a hint of eucalypt, wood-shaving, lead-pencil and bell-pepper hints. Again, its firm grip is softened by the ripe fruit. I can almost hear whispers of 'prime rib of roast beef and caramelised onions' which will marry with its ripe fruit flavours.
Its label shows an image taken by a National Geographic photographer of a mummified priest from 16th century catacombs in Palermo . It depicts the power and dignity of Cabernet. (Vincent Musey, the photographer, received a life supply of wine for the label).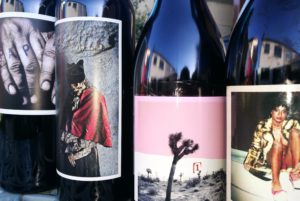 Machete 2016 Petite Sirah /Syrah/Grenache has concentrated blueberry and cassis, cocoa powder, sweet spice, with hints of savoury tobacco appearing. The mouthfeel is rich and plush, making this a very enjoyable, friendly wine, despite the power (15.5% abv).
The label is Tarantino-esque, showing a model with a machete against in the foreground of an old re-sprayed police car. 10,000 photos were taken to find the right one which conveyed the model's sense of power.
Blank Stare 2016 is a Sauvignon Blanc with intriguing aromas of honey, beeswax and kerosene. The palate is rich, full-bodied, creamy, buttery with moderate acidity and peachy, quince-like flavours, married with toast and cloves. I loved it.
Abstract 2017 is a Grenache/Syrah/Petite Sirah blend, very richly concentrated with brooding dark fruit s, a little spice and earthiness, well-framed by solid oak, finishing surprisingly firm.
The label is a collage of over 200 magazine cuttings, assembled by Dave, and chosen to reflect the complexity given by the blend's varietals and mixed geographic sourcing.
Some of these rare wines are distributed in Ireland through Gallo and Pembroke Wines. Abstract is available in O'Briens.