Premier Wine Training offers WSET Level 1 Wine as an online wine course, for candidates who can't attend regular classes, but want a recognised wine qualification.
This course suits wine enthusiasts and those working in their first role in the wine trade who wish to gain a recognised wine qualification. No prior knowledge is required.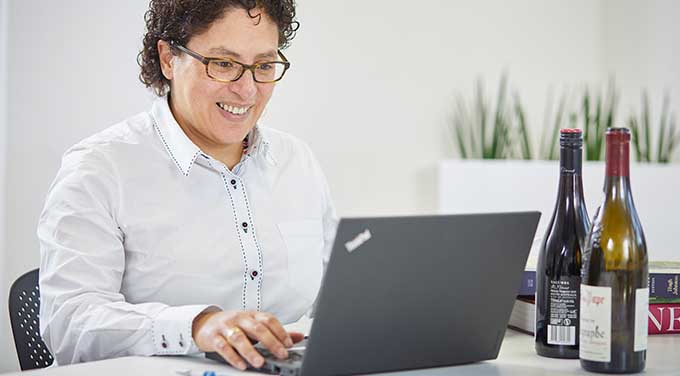 Learning outcomes/what will I know after completing this course? The qualification aims to provide basic product knowledge and skills in serving wines, so that graduates will be competent in positions in sale/ service of wine in wholesale, restaurants, bars, stores, or in communications.
Course content:
The main types and styles of wine
Common wine grapes and their characteristics
How to make food and wine pairings
How to store and serve wine
How to describe wine using the WSET Level 1 Systematic Approach to Tasting Wine® (SAT)
For full details click on the WSET Level 1 specification.
Exam: Qualification is based on passing a paper of 30 multiple-choice questions in 45 minutes. A candidate needs to achieve 70% to pass. This course now comes with the ability to sit your examination online, so you don't need to wait or travel to complete your qualification. More details on how online examinations work will be shared with you once you enrol.
How does the on-line WSET course work?
Your textbook is sent by post.
Webinars are recorded for you to view at your convenience.
Weekly quizzes.
Tasting assignments.
Recommended Private Study: 3 hours per week, for each of 4 weeks, plus revision time, is recommended for this course. You are expected to keep up on a weekly basis with assignments and quizzes.
Cost: €165. This includes textbook, exam fee, online course materials, and online computer-based exam with remote invigilation. Tasting is also an important part of this course, and you will need to taste a minimum of six wines (not provided as part of the cost, but you will be given guidance on the styles to taste).
Technology requirements: To use the Online Classroom, we recommend that you use a laptop or desktop device and have a reliable internet connection. To sit your examination online you will also need one additional smart device such as a smartphone or tablet.
Mon 22 Feb 2021, exam on 22nd March.
Mon 26 Apr 2021, exam on 2nd June.
Contact Form

If you don't receive a reply within 24 hours, please check your spam filter.