Premier Wine Training offers WSET Level 1 Wine as an online wine course, for candidates who can't attend regular classes, but want a recognised wine qualification. WSET was established in 1969, and it is now it is the global leader in wine education.
This course suits wine enthusiasts and those working in their first role in the wine trade who wish to gain a recognised wine qualification. No prior knowledge is required.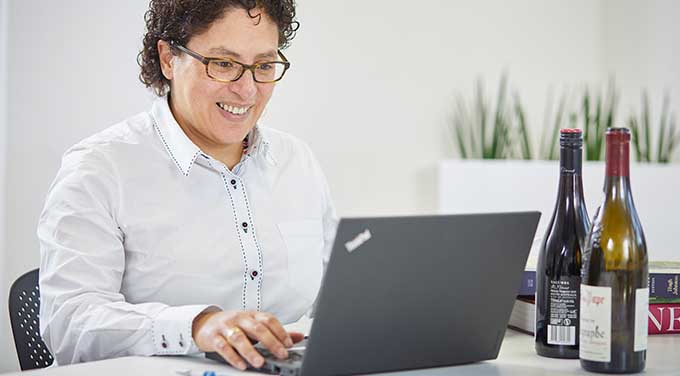 What will I know after taking this course?
This level assumes you know nothing about wine, and have never drank wine. After taking this course, you will have basic product knowledge and skills in serving wines. So, you will be competent in selling and serving wine in wholesale, restaurants, bars, stores, or in communications.
Course Content:
The main types and styles of wine
Common wine grapes and their characteristics
How to pair food and wine
How to store and serve wine
How to describe wine using the WSET Level 1 Systematic Approach to Tasting Wine® (SAT)
Course information: for full details of course content and learning outcomes, download the WSET Level 1 Wines Specification.
How does the online course work?
Study materials: All study materials are online.
Online study: 4 weeks duration. You have a dedicated online tutor who is available to answer your questions during the course. Classes are asynchronous; you can study any time you like. Access to WSET's Online Classroom is valid for 1 year, but tutor support ends after the course end date.
Enhanced features include revision videos, flash cards and exam tips.
Wines: you are expected to taste 6 wines. These are not included in the price.
Exam: The exam consists of a 45 minute exam, with 30 multiple-choice questions. You need to achieve 70% to pass.
Recommended Private Study: 3 hours per week, for each of 4 weeks, is recommended for this course.
Technology requirements: To use the Online Classroom, we recommend that you use a laptop or desktop device and have a reliable internet connection. To sit your examination online you will also need one additional smart device such as a smartphone or tablet. It is recommended that you don't use a shared device for your exam.
Cost, dates, booking
Cost: €215. This includes your online course materials, exam fee (either online computer-based remotely-invigilated or a paper version). Tasting is also an important part of this course, and you will need to taste a minimum of six wines (wines are not provided; but you will be given guidance on the styles to taste).
Dates:
Mon 16 Oct 2023. Computer exam on Mon 13th Nov @7pm. (Please use the contact form below, to arrange a paper exam). Places are limited; and must be booked at least 10 working days in advance of the start date.
For more information/Contact
If you don't receive a reply within 24 hours, please check your spam filter.