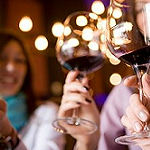 Wine tastings with Premier Wine Training are a super evening's entertainment for groups, whether it be for a work night out, corporate event or meeting, or for private groups.
As well as appreciating carefully chosen wines, the audience enjoys a liberal sprinkling of geography, history, science and culture relating to the wine, as well as picking up tips on what to look for and how to describe wines.
New, from December 2020 are online wine tastings – ideal as a gift, or traditional wine tastings, below.
The wine tasting includes 6-8 wines (mixed white and red, except where otherwise stated).
Location:  Average prices quoted below are based on the wine event being held in your venue, in the greater Dublin area.  Just ask for a quote for providing a wine tasting in another venue, and/or outside this region.
Choose from a number of themes (below) or request something more specific.
World wine tasting
French wine tasting
Italy & Iberia wine tasting
Old World vs New World wine tasting
Full-Bodied red wine tasting
Aromatic & Spicy wine tasting
Prices for these tastings are largely dependent on the size of the group, and average out as follows.   If you have a specific theme in mind (champagne, classic wines), please just ask!
30 people average €12 per head
25 people average €14 per head
20 people average €17 per head
15 people average €20 per head
10 people average €29 per head (but more wine per person!)
Premier Wine Training is happy to discuss providing a customised approach for wine tasting for trade bodies and hospitality providers.
Who gives the talk? Maureen O'Hara.  Read about testimonials from others.
Contact Form

If you don't receive a reply within 24 hours, please check your spam filter.