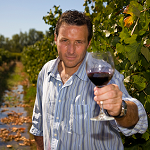 Immerse yourself in wine for the day! This 1 day wine course will delight any wine enthusiast.
It is perfect for anyone with an interest in wine, as a gift (watch their face light up when they receive this gift!), or for anyone who finds himself time-pressed, or 'just-curious'! I recommend it also for people who are looking for a condensed wine course, when they need to know a little about wine for work purposes.
So if you are entertaining clients, or working in a wine shop or restaurant, you will find this course of benefit.
Why choose this wine course?
This wine course stands out above any other short wine course being offered, as it packs a lot of information, in a structured manner, while allowing plenty of time for those wine questions which have been niggling away for years.
While many 'wine courses' on offer are simply wine tastings, this is a real opportunity to take your wine knowledge to new heights. Groups tend to be small, allowing for lots of questions and banter.
Praise for this wine course:
I am proud to say that I receive wonderful feedback from people who've attended this wine course. Many people book on recommendation from others, which is a great testimony.
Course format:
Start by understanding why there is such a variety of wine styles and quality levels.
Explore 6 grape varieties, and then, using the professional wine tasting technique, taste these.
You will receive your own set of 6 professional wine tasting glasses to keep.
Lunch is included.
Frequently Asked Question Session – food and wine matching, tips on buying wines, storing wines are some of the many questions people ask.
Explore 4 different wine regions.  Some sessions focus on French wines and wine regions.   Taste benchmark examples from these areas.
A full set of tasting notes is included.
A certificate is awarded on completion of the course.
The 'new you' will understand how grapes are made into wine, you'll recognise how 6 key grape varieties  and 4 classic wine regions should taste, and you will know how to taste wine properly & describe it.   You will also be given food and wine matching tips, and practical buying tips. It's a great opportunity also to ask those wine questions which have been niggling away!
Cost:€150, includes wines, lunch (wine works up a good appetite!), a set of tasting glasses which you can keep, course notes. It's a good investment for a lifetime's appreciation of wine.
Vouchers are available, which are very nicely presented. (Again, I've received compliments on these!). Just ask when booking.
Venue: The Camden Court Hotel, Dublin 2.
2021 Dates:  March 13, Apr 10 (French focus), April 24.
Timing: 10am- 5pm
Who is giving the wine course?
I give the course myself. Please feel free to read more about Maureen O'Hara
Level: No experience necessary. Suits budding enthusiast.
Similar options:  WSET Level 2 Wine course.  A new option for 2020, in conjunction with Molloys, is an online wine tasting experience. (This is a separate offering; vouchers are not interchangeable with the 1-day wine course). 
MULTIPLE AMOUNTS: If you would like to buy more than one voucher, please use this link, and choose the amount from the drop-down menu.
Contact Form

If you don't receive a reply within 24 hours, please check your spam filter.