Want to learn more about wine, but can't commit to a weekly course? Online wine courses may be a perfect solution if your schedule is packed, or if you have long distances to travel. Distance learning gives you a high degree of flexibility, and is ideally suited to self-motivated wine lovers who are comfortable online.
WSET® online wine courses (WSET Level 1 Wines, WSET Level 2 Wine, WSET Level 3 Wine) are all offered as distance learning wine courses. Now you can get the world's most widely recognised wine qualifications, from the comfort of your own home!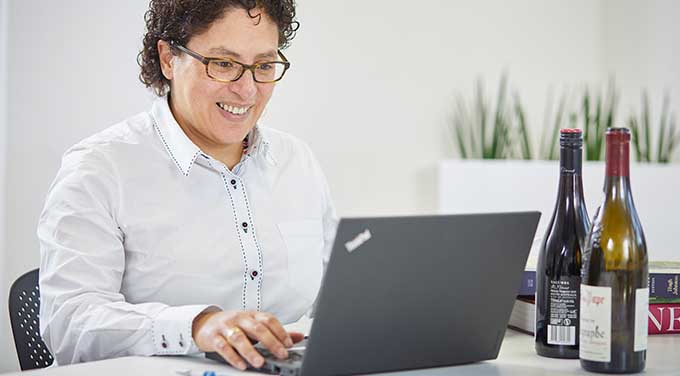 For individuals new to wine study, WSET Level 1 wine course provides a hands-on introduction to the world of wine. This will enable students to meet workplace standards in wine service and dealing with basic customer enquiries. Book now for the next course.
WSET Level 2 Award in Wines qualification is a beginner's/intermediate level wine qualification. It is suitable wherever a sound but simple level of wine knowledge is required to underpin job skills. It also suits wine enthusiasts who want to get a good foundation in wine tasting, key grape varieties, and principles behind a wine's style, quality and taste. Sounds good? – find out more and book now.
WSET Level 3 Award in Wines qualification is an advanced wine qualification, suitable for people with good basic knowledge, including wine enthusiasts and experienced professionals in the hospitality/wine trade. Hone your wine tasting skills, and discover how location, grape growing, winemaking and maturation influence the key still, sparkling and fortified wines of the world. Sounds like a challenge you are up for? – read up and book now.
Want to learn more, but don't have time to study? Or don't need a Wine Certificate? Online Wine appreciation courses are also coming, at various levels. Watch this space….
Benefits of online wine courses:
No more rushing to class and falling asleep after a long day's work!
Study at whatever time you wish – suits early birds and night owls!
Study at your own pace: take more time if you need it. Re-play, re-test as many times as you wish.
You can fully enjoy your wines, without worrying about getting home.
Get to know your classmates, without feeling the need to keep your distance!
Canvas is a world class learning management system, used in over 4,000 educational institutions in the world. Canvas is easy to use, and combines the best of both worlds: recorded classroom tutorials, videos of wine regions and wine tasting, discussion groups, quizzes and assignments, while being able to ask your tutor questions.
Fully online: Computer-based exams, with Remote Invigilation are available for WSET Levels 1&2.
Credentials:
Premier Wine Training has been offering online wine courses since 2011. And Maureen O'Hara has been teaching wine courses since 1998. You can find out more about me here.