WSET Level 3 Award in Wines qualification is an advanced wine qualification, suitable for people with good basic knowledge (Level 2 or equivalent), both wine enthusiasts and experienced professionals in the hospitality/wine trade.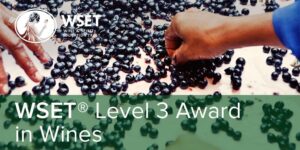 This qualification provides a detailed understanding of grape growing and winemaking. Upon completion you will be able to assess wines accurately, and use your understanding to confidently explain wine style and quality.
Qualification aims: Holders of the WSET® Level 3 Award in Wines will be able to describe the characteristics of the principal wines of the world and give information on the key factors influencing style, quality and value. They will consequently be in a position to advise management, to answer customer queries authoritatively, and to make informed selections of wines in a variety of situations.
Learning outcomes:
Unit 1: Theory: The key factors in the production of wine: location, grape growing, winemaking, maturation and bottling.
How these key factors influence the key characteristics of the principal still, sparkling and fortified wines of the world. How to apply your understanding to explain wine style and quality
Unit 2: Tasting: How to taste wines, describe their characteristics and evaluate their quality, using the WSET Level 3 Systematic Approach to Tasting Wine® (SAT).
Course information: For full details download the course specification.
Assessment: Unit 1 is assessed by a closed-book exam of 50 multiple-choice questions and a short-written answer paper. Unit 2 is assessed by a blind tasting of two wines. This qualification is regulated by Ofqual.
Course delivery: This qualification has a minimum requirement of 84 hours of study time, including 30 hours of tuition. Private study required: 54 hours.
Formats: all these formats include printed WSET study book, access to Quizlet revision questions and exam fees. Glasses are not included, since most people have a set from Level 2. A set of tasting glasses can be bought (collection only); just ask.
A) 11 week traditional classroom(6.30-9.30pm, once per week for 11 weeks). Cost: €975. This format is on hold at the moment.
B) Blended classroom & online: 11 weeks, including 5 traditional classes in a classroom, focussing on tasting. For all the other weeks, you will have a 'live' class on Zoom. Recorded classes are also available on the Canvas learning platform. Your tutor will guide you individually through weekly theory and tasting assignments. Cost: €815 (Students are expected to buy & taste 11 specified wine styles, and submit a tasting note each week).
C) Online with live weekly tuition and tasting samples. 11 weeks, all in your own home. This format includes a set of 64 Vinotte® 20ml samples (RRP €280 from Vinovae) and live weekly classes on Zoom. Never miss a class – you can watch a recorded version. Weekly online theory and tasting assessments, with tutor feedback, are all supported by Canvas. Canvas is a world-class learning platform, used in over 4,000 educational institutions around the world. Cost €975 (books and samples will be sent by post).
Venue for traditional classes & exam: The Camden Court Hotel, Camden St., Dublin 2.
Dates:
Tues 31st Jan 2023: Blended classroom & online ('B' above): Tasting classes are on Jan 31, Feb 7, 21, Mar 14, Apr 11, starting at 6.30pm. Zoom classes start at 7pm. Exam on Tues 2nd May, 6.30pm. Venue: Camden Court Hotel. Cost: €815.
To book: places on all courses are limited, and therefore offered on a first-paid basis. Payment is required in order to secure a place. You can book online, using Paypal button, below. If you'd like to pay by a different method, please get in touch, using the contact form, below.
Entry requirements: This is an advanced course – it is strongly recommended (although not mandatory) that candidates should be at WSET Level 2 before embarking on this course. Candidates should be over 18 years of age to taste wine. A good standard of English is required to complete Unit 1 Theory exam.
To use Canvas (Options B&C), you should have basic computer literacy. A computer is recommended over a smartphone or tablet, and your system should have these requirements.
Distance learning option: for candidates who find it difficult to commit to classroom-based study, there is an on-line wine course option at this level.
Next level up: WSET Level 4 Diploma in Wines (This course is run in Dublin by WSET directly, please contact them for details. WSET Level 3 is required before starting this course).
Contact Form
If you don't receive a reply within 24 hours, please check your spam filter.