Wine is a very traditional area.  Wine packaging was stuck in a time warp until screwcaps came along.
Many people avoid opening a bottle of wine if they just fancy a glass – especially if it's an expensive bottle.  I generally recommend using a VacuVin pump, to remove the air from an open bottle.  This will keep the wine fresh for a couple of days.
Greg Lambr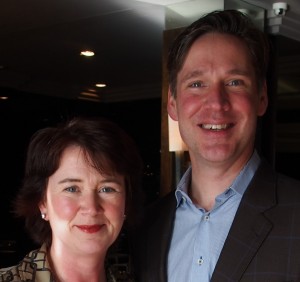 echt, an American wine lover, saw an opportunity he just couldn't resist when his wife became pregnant and he couldn't justify opening expensive bottles of wine on his own.  Greg's day job is an inventor – of medical devices. He wanted to have "zero thought about what to open." He also wanted to indulge his passion for trying several wines over the course of a meal.
So, after four years of testing prototypes, Greg came up with a device now patented as Coravin.  Without pulling the cork, a needle is inserted through the cork, drawing wine while simultaneously pumping neutral argon gas to replace the displaced wine.  (Argon is a gas widely used in food packaging).  The beauty about Coravin is that a wine bottle can be opened and then stored for not days, months, but several years later!  Greg's cellar grew from 40 to 2,000 bottles as he tested his invention on all kinds of wines.
In New York, trio sommeliers couldn't detect any difference between a Coravin-accessed bottle and a just-opened bottle of the same wine – although the Coravin version was first opened nine years previously! It's been widely tested and approved by sommeliers, Masters of Wine, and the most prestigious Châteaux of the world. Agreement is unanimous.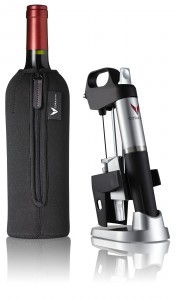 Coravin is a 21st century invention which will revolutionise the way people open and enjoy premium wines. Restaurateurs can now offer all their premium wines by the glass.  Ancient wines can be drunk without risking a crumbly cork.  (Ch. La Lagune 1909 survived this test admirably!).  Wine lovers can open a bottle to assess how a wine is developing (and leave it for another few years if needs be).  Wine educators like me can show great wines to small groups.  80% of users are wine lovers (as opposed to trade), and Greg estimates that Coravin is now used on half a million bottles per day around the world.
I have been using Coravin for several months now in wine courses and for personal consumption, and find it invaluable. At first it was a toy… now I use it to check wine quality in advance of courses. I use it to check development of wines.  I 'accessed' a bottle for Ch. Pichon Longueville 1990 for my French Wine Scholar course in March, and then finished the bottle in November!  I use it whenever I 'just fancy a glass' of something.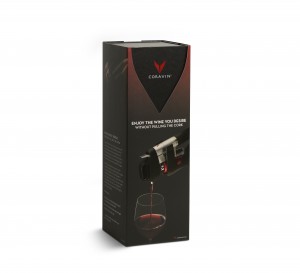 As a wine lover, I can't imagine any enthusiast who wouldn't crave a Coravin. It really is the ultimate wine gift, sturdy and beautifully designed.  The unit costs €299, and comes with a needle and two argon canisters. A 2-pack canister costs €20, and caters for 15 glasses of wine.  From Redmonds, Jus de Vine, Mitchell's, 64 Wine, Vanilla Grape, Molloys Clonsilla, select O'Brien's.  Coravin is also being used in numerous top restaurants.