This plea was made when two rogue corks flew onto the court where Frenchman Benoit Paire and Czech Jiří Veselý were playing a match. And it wasn't the first time last year. In separate matches, both reigning champion Novak Djokovic and Australian Nick Kyrgios had to wait while ball-boys removed corks from the court.  
"It's a very expensive bottle of champagne that one. Poor fellow needs some training on his technique as to how to open a champagne bottle. Do not let go of the cork."
Well said, BBC commentator David Mercer!  In warm weather, as Champagne heats up, the pressure increases, forcing the corks to pop out at great force.  It can be quite dangerous, so I show people how to open a bottle at my wine courses. The correct method of opening Champagne after chilling it to 6-10˚C, is to hold the cork firmly in your grasp, and twist the bottle, not the cork.   
When I was a kid, the sight of Wimbledon on TV brought kids out on the road, whacking old tennis balls with hefty wooden racquets. Wimbledon and the game of tennis have become much more sophisticated, as has its catering arrangements, as one of the largest sports catering events in Europe.
In 2019 over half a million tennis fans consumed 190,000 portions of Grade 1 Kent strawberries & cream at the All England Club. Another popular, more functional fruit choice among players is bananas – players eat over 2,000 kilos of bananas! Another astonishing figure is that 20,000 bottles of Champagne are normally drank every day of the tournament!
Lanson Champagne has long been a favourite in England, dating back to when Queen Victoria granted it the right to call itself 'Official Purveyor of Champagne' to the Royal family. And Lanson Champagne has been closely associated with Wimbledon since 1977, the year in which Bjorn Borg and Virginia Wade won their Wimbledon titles. It is the Official Champagne of Wimbledon.
Lanson's history goes back even further, as it was founded in 1760. In keeping with centuries of tradition, Lanson claims to make a wine true to the historic style of Champagne, which is more pure and fruit-driven, with longer ageing potential. To this end, they allow the wine's natural acidity to show through, leaving it particularly crisp, zesty and refreshing, which is a point of difference against other Champagne houses.
I met Lanson's Cellar Master, Hervé Dantan last year, and he explained that he uses a high proportion of older wines in the non-vintage blend, which adds more complexity, and gives mature flavours.  The NV blend contains 36% of 'Reserve' wines, going back as far as 10 previous harvests.  Furthermore, more than 50% of the grapes come from the highest rated Grand Cru and Premier Cru vineyards.
While we won't have Wimbledon this year, we have plenty of strawberries, and we can still enjoy Lanson, which is available from O'Brien's. Now, where's my tennis racquet…
Lanson 'Black Label' Brut NV is Hervé's favourite, when pushed to nominate one. It is very, very crisp. The nose is smoky, toasty and savoury, and on the palate, an explosion of very fine bubbles, with Granny Smith apple, lemon, almonds and toast.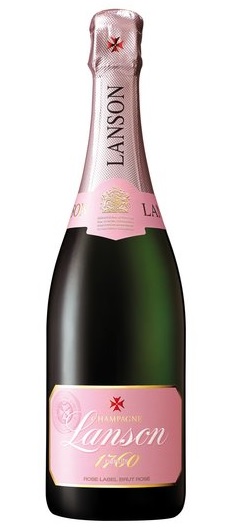 'Rose Label' Brut Rosé NV is a delightful salmon hue, with a mini-meteorite shower of lively fine bubbles, and on the palate, subtle flavours of peach and strawberry, contrasted with green apple. 
Lanson 'Green Label' Organic Champagne Brut NV has been served at Wimbledon.  Lanson is very much focussed on organic production, and has one of the largest organic vineyards in Champagne.  It tastes a little riper than the Black Label, more fruity (apples, pears, a little peach), and a little more minerally or salty. Again, the mousse is super-fine.