O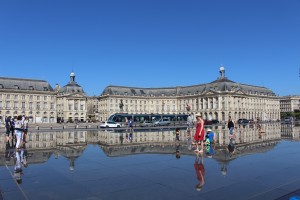 ne of the best ways to learn about wines to go a visit a wine region.  Bordeaux is a wonderful place to visit, even if only for a weekend, to stroll through its broad boulevards and marvel at the grandeur of merchant life.  Now is a better time than ever to visit Bordeaux, and appreciate the improvements made to this wonderful place, which is now famous as a UNESCO-heritage city.
Bordeaux is France's largest producer of AC wines, and has earned an unrivalled reputation around the world for its premium red wines.  In the 18th century, it was better known for its port, which at the time was second only to London in scale.  It was no wonder that many Irish set out to make their fortune there.  You will be proud to discover numerous Châteaux and streets with Irish names like Barton, McCarthy, Kirwan and more.
Its magnificent buildings managed to escape being bombed during the Second World War.   Alongside the grandeur is a maze of narrow streets (where dock workers lived), providing a stark but bohemian contrast, thronged with restaurants and cafés.
One of the most iconic buildings is the Place de la Bourse, modelled on Versailles Palace. This was where trade and customs officials were based.  On front of this, the Miroir d'Eau is a recent addition – a simply brilliant shallow plateau with periodic jets.  While the water is still, it reflects the Place.  When the jets spray, local children jump in and enjoy a splash.   Apparently, police at first tried to prevent the children from playing, but in the end, the kiddies triumphed!  Ingeniously, a smart architect designed all this to hide an underground bus station!
The once-busy quayside has now become a 5km long promenade.  It's broad and beautiful – ideal for a stroll, jog, roller-blading, or cycling.  Apartment-dwellers make the most of the space with picnics and outdoor activities.  Locals flock to a Sunday market at the former wine dock, Quai des Chartrons, to meet up and enjoy Arcachon oysters.  Just a couple of streets back from the river, in a merchant building built by the Burke family, is the Musée du Vin which traces Bordeaux's wine history.  There are many beautiful vistas of Bordeaux, the best possibly being from the opposite side of the river, looking across at Place de la Bourse as the evening sun sets.
Bordeaux city itself has a wealth of parks, churches and museums to explore.  Pay a visit to the friendly tourist office beside the Opéra for some good advice.  You could do worse than take an open-top bus tour or a guided walking tour.  The bike-hire system is super, and helps you see so much more than you might on foot.
Wine country around Bordeaux is very easy to navigate. You could easily have a lovely cycling holiday around the Médoc – it's gently-sloped at most – nothing too taxing.  Driving north of Bordeaux, your first stopping point is the Médoc region, home to hallowed First Growths as Latour.  For wine lovers it's a real thrill to drive through the communes of Margaux, St. Julien, Pauillac and  St. Estèphe, taking in the soil, slope, proximity to the river.  Visits to the most famous properties are by appointment, and tend to be reserved for VIPs.  However, each commune has its own Maison du Vin.   You can check with them to find out which châteaux are on the rota for tours and tastings, either by calling ahead or popping in. Many of the villages also have a small restaurant or bistro, whereas in times past there was little for casual tourists.
Pauillac is a good stopping point.  Here, at Ch. Lynch Bages, the Cazes family have re-created a village with its own wonderful bistro, Café Lavinal – highly recommended.  You might even be tempted to create your own barrel of wine at Viniv, guided by the Cazes family's know-how. In the same area, you will also find Cordeillan-Bages, a sublime hotel with its own Michelin-starred restaurant.
A trip east of Bordeaux city will bring you to another UNESCO town – St. Émilion, not to be missed!  Its cobblestone hilly streets, ancient churches, and rustic restaurants are a wonderful contrast to the splendour, flatness and scale of the Left Bank.
Head south of Bordeaux city, and you are in Graves, where some of Bordeaux's best whites are made.  A little further on brings you to Sauternes, home to some of the world's most famous sweet wines.
Bordeaux is a city you can visit time and time again (thanks to direct flights) to learn about wine, take a foodie break, or just relax and enjoy the atmosphere.   Take a peek at their excellent tourist information service. 
If you want to learn more about French wines – history, geology, tradition, food and wine, the French Wine Scholar programme starts September 26th 2015 in Dublin.