With a bit more time on my hands, and in between creating online wine courses, I finally cracked the recipe for slow-cooked belly pork, using a recipe for Char Siu Pork. It was melt in the mouth delicious! What to drink with Char Siu was the next challenge…
The ingredients included honey, brown sugar, hoi sin sauce as well as garlic and five spice powder. Sweet ingredients can be tricky to marry, but I figured that Zinfandel's uber-ripe (almost sweet-tasting) fruit, big generous flavours, and soft tannin would do the trick. It was absolutely delicious with it.
This week last year, I spent a week in the home of Zinfandel – California. And if California is the home, Lodi (pronounced 'Low-die') is the cradle of Zinfandel. Lodi is a huge grape-growing region, with some 120,000 acres planted to vines, 90 miles east of San Francisco.
Lodi was first planted with table grapes in the 1850s by settlers from Germany, Italy, Spain and Portugal. During the Prohibition Era of the 1920s, when sales of alcohol were banned, Lodi became a boom town for table grapes. Each US household was legally permitted to buy a certain amount of grapes to make their own wine, so trainloads of Lodi grapes were dispatched all over the States.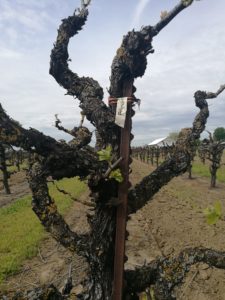 Zinfandel had been first planted there in the 1880s, and it became a flagship for the region. as A second boom era came in the late 70s/early 80s, with Sutter Home creating a sweet Rosé Zinfandel, creating a category known as 'White Zinfandel.'
The current Lodi boom is sees Zinfandel from here being including in rich red fruity blends, such as Apothic and Dark Horse. Gallo Family, who make these popular wines, is the largest grape-buyer by far in Lodi.
Another change that I discovered is that the number of wineries has increased from 8 to 85 since 2000. Instead of just selling on grapes, growers are setting up their own wineries. As land is much cheaper here than neighbouring Napa or Sonoma, growers are having fun experimenting with unusual varietals. There are over a hundred varietals planted here. I've tasted quite a few, and the future looks very exciting for this farming region which continues to re-invent itself.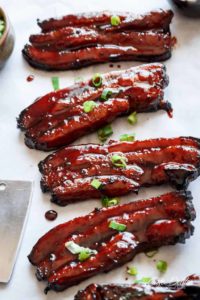 A final word – if you like slightly spicy Asian or Mexican food, try pairing it with Zinfandel. It's also pretty good with milk chocolate and white chocolate (yes, that includes Easter eggs!). A former wine student of mine first cut his teeth on Zinfandel at my WSET wine course. He is now a big fan, and sells several Zinfandels in Sweeneys D3 wine shop in Fairview, where he now works!
PS – the char siu recipe is at café delites blog. And do make some extra sauce, as advised!
Gnarly Head Old Vine Zinfandel 2017 Gnarly Head is a big success story in the USA, with a whole range of wines built around the success of the original Zinfandel. This is a rich, warm, spicy red, with baked and jammy, spicy red and black fruits, and smooth tannin. €19.95, O'Briens, Molloys, Drinkstore, Wineonline.ie, Donnybrook Fair and other good independents.
Kendall-Jackson Reserve Zinfandel has plenty of body, warm alcohol, with smooth tannin, and oodles of dark dried fruits (fig, sultana), sweet cake spices (clove, cinnamon, nutmeg) and toastiness. €23.95 (O'Brien's)
Dark Horse Cabernet Sauvignon The goal of the Gallo winemaking team was to make a $20 dollar wine with a $8 price tag. It's been a runaway success (even in Ireland, where our tax is higher). The Dark Horse range includes Cabernet Sauvignon – and this is a friendly mare – very approachable, with rich sweet blackberry, cocoa and sweet cake spice flavours, and smooth tannin. I would try this with char siu and Asian/Mexican spicy fare too. €15, Super Valu, Tesco, Dunnes.
Ravenswood Lodi Old Vine Zinfandel 2013 This is from one of the most famous producers of Zinfandel, Joel Peterson, who I met on my previous wine trip to California. Wonderful, pronounced aromas of super-ripe black fruit (black cherry, black plum, blueberry), eucalyptus, liquorice, white pepper, with notes of chocolate, coffee, vanilla and charred wood. Tannins are smooth, with a rich warm smoky finish. €22.99, Donnybrook Fair.
Brazin Old Vine Zinfandel medium to full bodied, with intense flavours of coconut, charred wood, cloves, nutmeg, very ripe black and red fruits (blackberry, plums, cherries), as well as dried fruit and liquorice. Lovely long finish. About €23 (Martins, McHugh's, wineonline.ie, Egan's, Donnybrook Fair).