Luckily for me, I've a great excuse to visit wine regions as part of my never-ending wine education! And if I can visit with friends, all the better! Chianti Classico was one such trip.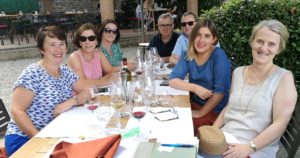 A green and fertile land: Chianti Classico DOCG extends over 7,000 hectares, from Florence southwards to Pisa. Its rolling hills are surprisingly green – only one tenth or so is planted to Chianti Classico vines. The rest is a mosaic of verdant forests, alive with wild boar, venison and game, as well as olive groves. Another surprise is that the soil is quite fertile, and fed by acquifers, which survive the driest of summers.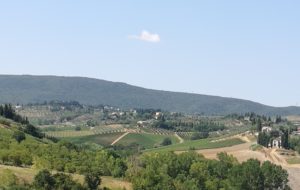 Monks played their part: Abbeys (badia) dot the horizon. They were built on hilltops, at about 400m altitude, giving a distinct advantage in case of attack, and also providing cool air in summer. We now realise that the right slope, aspect and altitude is a divine trinity for premium wine production. Some badia, such as Badia a Coltibuono, date back over a thousand years a time when the land was owned by monks. They rented it out under a 'sharecropping' system, and this system prevailed under after World War II.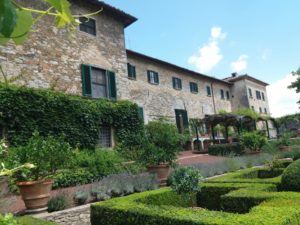 Medieval Chianti: During the Middle Ages, wine was a simple rural commodity, valued for lubricating the palate during meals, and also for its nutritional content.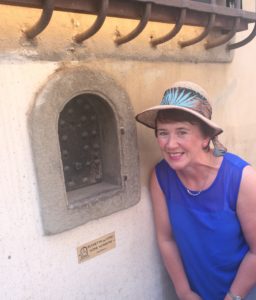 Chianti was mostly made by blending mixed grape varietals together. It was quite normal to leave some natural grape sweetness in the wine, and also to blend in some previous vintages in order to soften a new wine. Baron Ricasoli is credited with improvements in wine quality in the 1800s.
However, as demand soared during the 1960s and 1970s, many producers succumbed to the temptation of strong market demand, and quality suffered.
Quality improvements: The late 1980s saw a resurgence in quality, thanks to quality-conscious producers within the Consorzio del Vino Chianti Classico. Their 'Chianti 2000' project resulted in improvements in Sangiovese clonal selection. Varietal composition has also improved for the better. Chianti Classico is now made from at least 80% Sangiovese, the balance being local varietals or often, Cabernet Sauvignon. Lowering yields is another – Carpineto prunes to as low as one cluster per vine shoot, with the goal of making the best possible quality. Blending vintages is long gone – Chianti Classico is traditionally aged in large old Slavonian oak casks, and released for sale not sooner than 12 months.
Chianti Classico grades Chianti Classico Riserva DOCG is a higher grade, and must be aged for 24 months, at least 3 months of which have to be in bottle. At the top of the ladder is 'Gran Selezione', a category that was established in 2014. A Gran Selezione must be sourced from a single estate, and the wines aged for 6 months longer than a Riserva.
Best Chianti Classico to buy: There are some 600 producers of Chianti Classico. Among the best which are available in Ireland are Badia a Coltibuono, Carpineto, Antinori, Castillo di Ama, Isole e Olena, Felsina, Fontodi, Ricasoli, San Felice.
3 Chianti Classico to try:
Badia a Coltibuono Chianti Classico 2015 A great vintage – sublime savoury herbal notes of dried tea, dried red fruits like cherry, redcurrant. (Importer: Tindal Wines/ in Searsons, Terroirs).
Chianti Classico Carpineto 2017 another superb, 'five-star' vintage. It takes a few minutes to open up to reveal a simply stunning rich, classic, very herbal palate, with a chalky dry finish. (Importer: Mackenway/in good wine shops).
Chianti Classico Riserva 2015, Carpineto has a remarkable bouquet of roasted coffee and chocolate. It's incredibly rich, quite firm, really vibrant, with ripe redcurrant and cherry and more tea-like herbal notes.  Enjoy now, or put away for 8-10 years. (Importer: Mackenway/in good wine shops)