Looking for inspiration for lighter wines for warm sunny weather? I'm lucky enough to taste a lot of wine at wine tastings, and I'm happy to share three readily available wines, together with some wine & food pairings.
Rapaura Springs Marlborough Sauvignon Blanc
This is made by Matt Thompson in New Zealand. I first met Matt about twenty years ago, when he was a rookie 'flying winemaker,' working between New Zealand and Piedmont. I met him again in Dublin earlier this year. All that kayaking and canoeing down under have worked well him; he looks as well and fit as ever!
Okay, so Sauvignon Blanc isn't exactly an inspirational choice, but it's still a crowd-pleaser if you have (not more than two) people to visit in your garden, and this one really stands out. I find the vast majority of Sauvignon Bancs at this price (€11.50) can be very acidic. While the first glass can be refreshing and fruity, you'll find yourself saying 'no' to much more.
Matt confirmed that this wine has slightly lower acidity than other producers (0.4g/l lower). Grapes are sourced from different sites across Marlborough, including Rapaura, which is known for its tropical character. Grapes are picked early, at 5am, when the temperature is cool, sometimes 5˚C, to preserve freshness. When pressing, there's minimal skin contact, which I understand encourages a silkier texture. The result is a nicely balanced wine, with passionfruit, lime, elderflower and moderate pyrazines (tomato leaf/ nettles). The wine has just under 5g of residual sugar, so it's quite dry by New Zealand standards.
By the way, at a wine course earlier this year, my students all thought it would be about €4-5 more expensive.
One of our favourite salads in warm weather is warm chicken, chorizo and mango, with a mango/lemongrass vinaigrette. (f it wasn't served with sourdough from Bread 41 on Pearse St., it'd be very healthy!). This would be lovely with it.
Costero Pinot Noir
Pinot Noir is very tricky to grow, and usually quite expensive, but some Chilean winemakers have 'nailed it' in cooler regions like Leyda Valley. The price/quality ratio for Chilean Pinot Noir generally is good; in this case it's superb, at €12.
Medium-bodied, very smooth, with delicious earthy, savoury, aniseed flavours, and dare I say animal/leather flavours too…! It has superb balance and very decent length at an affordable price point. If you like chilled red, this Pinot could take a light chilling. It would go really well with cold meats – charcuterie, ham, pork & prune/mushroom terrine, but its probably a little too airy-fairy for barbecued foods. (but don't let that put you off!)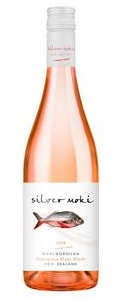 Silver Moki Sauvignon Rosé
I tend to be a bit agnostic when it comes to Rosé – many seem to be a bit flaccid and flavourless. However, this New Zealand Sauvignon Rosé ticks both boxes in terms of flavour and seasonality. It's bursting with aromatic exotic fruit, and sun-ripened peach, with proper zestiness, and a long finish. It's made with Sauvignon Blanc, Pinot Noir and Merlot, and comes in at 13% ABV. The label is a head-turner too.
Enjoy with flavoursome salads, like Moroccan couscous with chili/ harissa or fresh coriander/ basil. €10.50
All wines available in Dunnes Stores.